Nabila S. Enam, OTD, OTR/L, RYT
Assistant Professor of Occupational Therapy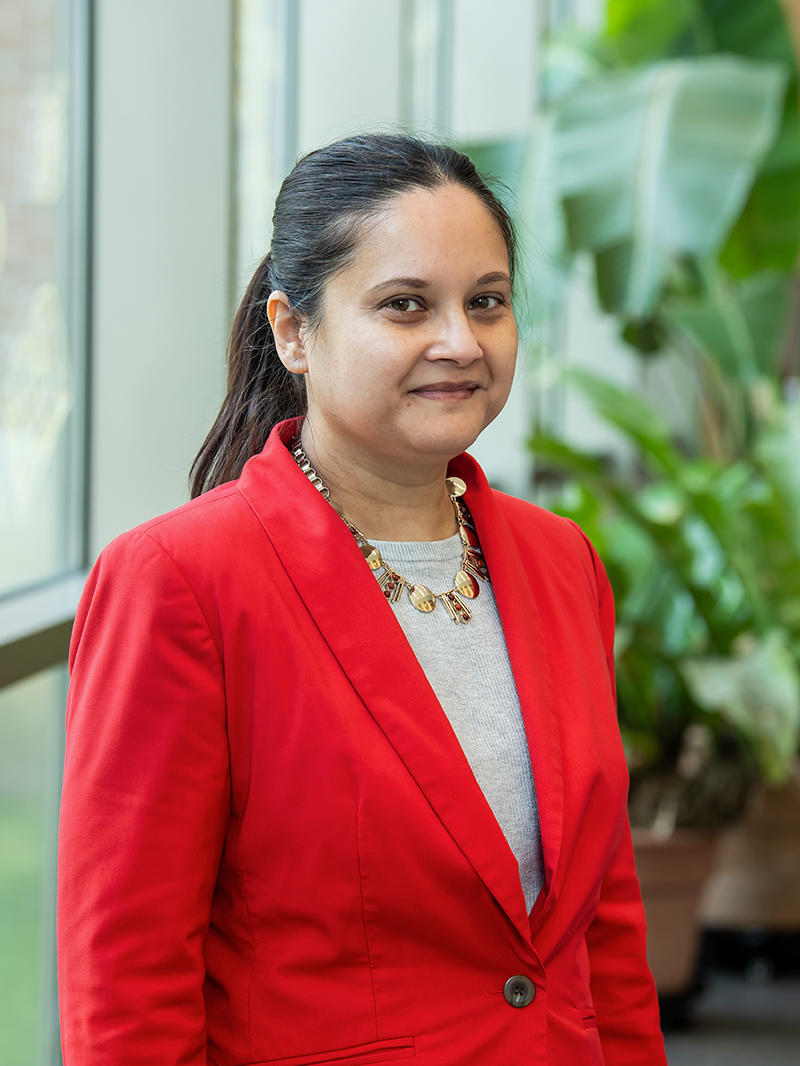 Office
4500 Woodland Ave.
Phone
215-596-7348
Occupational Roles
Daughter, Sister, Aunt, Friend, Educator, Occupational Therapist, Traveler, Yogi, and Caregiver
Occupational History:
Nabila Enam enjoys traveling and learning about other cultures. She has traveled to various continents including Africa, Asia, and Europe. She also loves being an aunt to her two nephews. In her spare time, Nabila likes to play with them, go out with her friends, watch T.V., read books, and shop. She also practices yoga, which she incorporated into her Occupational Therapy practice. Nabila has completed 200 hours of Yoga Teacher Training and teaches yoga to the University of the Sciences community.
As a previous fieldwork supervisor and adjunct instructor, Nabila found her interest in academia. She believes in building skills through practice and hands-on experiences.
Education:
Nabila has a Bachelor of Science in Health Science and a Master of Occupational Therapy from University of the Sciences, and a Doctor of Occupational Therapy from Salus University. Nabila also has a Specialty Certification in Health and Wellness from Salus University.
Clinical Practice
Nabila worked as a full-time clinician for many years prior to transitioning to academia. Most of her work has been with long-term care in community re-entry with adult traumatic brain injury population. Her clinical experiences also extended to inpatient and acute care facilities. She has served as a Senior Occupational Therapist. She continues to work as a per-diem therapist at a local hospital.
<p>OTD Salus University</p>
<p>BSHS, MOT, University of the Sciences</p>

<h4>
Publication:</h4>
<p><strong>Enam, N.</strong>, Grampurohit, N. &amp; Farber, R. S. (2020). Sleep management within skilled nursing facilities: A practice survey. Occupational Therapy in Health Care Journal, DOI: 10.1080/07380577.2020.1846234</p>
<p>Seo, B., Thomas, A. Corcoran, S. &amp; <strong>Enam, N.</strong> (2020). Mindfulness workshops to address stress and quality of life in college students. AOTA SIS Quarterly Practice Connections, 5(4), 20-22.&nbsp;</p>
<h4>
Grant:</h4>
<p>A Pilot Program: The Effects of Mindfulness Meditation on Sleep Quality and Perceived Stress of Students in Higher.&nbsp; Milton Lev grant</p>
<h4>
Invited Speaker:</h4>
<p>2018 Department of Occupational Therapy Residency Program at Moss Rehab. Incorporating Yoga into Occupational Therapy Practice</p>
<p>2017 Department of Occupational Therapy Residency Program at Moss Rehab. Incorporating Yoga into Occupational Therapy Practice</p>
<p>2015 Department of Occupational Therapy at Philadelphia University. Cognitive Rehab</p>
<h4>
Presentation:</h4>
<p>Cypher, J., <strong>Enam, N.</strong>, Kumble, S., Grampurohit, N. (2021). Occupational Therapy&rsquo;s Role &amp; Practical Application of Addressing Sleep: A Case Study [Poster Presentation]. Presented at 11th PMR Research and Clinical Expo John Hopkins, Baltimore, MD.&nbsp; &nbsp;&nbsp;</p>
<p><strong>Enam, N.</strong> (2021, September 24-29). A Proposed Pilot Program: Mindfulness Meditation on Sleep Quality in Community-Dwelling Older Adults. Presented at the American Congress of Rehab medicine Annual Conference Symposium of Research by National Center for Complementary Integrative Health Fellows, Virtual.&nbsp;</p>
<p>Martine, K. <strong>Enam, N.</strong>, &amp; Benham, S. (2021, April 6-29). A pilot program: Mindful meditation and sleep quality in higher education [Poster Presentation]. Presented at the American Occupational Therapy Association Annual Conference, Virtual.&nbsp;&nbsp;</p>
<p><strong>Enam, N.</strong> &amp; Yang, C. (2021). Impact of sleep disturbance on health after brain injury. Presented at the Brain Injury Association of Pennsylvania Annual Conference, Virtual.</p>
<p><strong>Enam, N</strong>. (2019, June). Factors influencing clinical practice of occupational therapy professionals in sleep management. Presented at Salus University, Elkins Park: PA</p>
<p><strong>Enam, N. </strong>(2015, October). The use of gentle yoga as a therapeutic modality in a TBI population. Presented at Pennsylvania Occupational Therapy Association, Scranton: PA</p>
<p><strong>Enam, N.</strong>, &amp; Dr. Nagele, D. (2013, June). The Clubhouse Model: An Empowering Alternative to Traditional Therapies. Presented at the Brain Injury Association of Pennsylvania Annual Conference, Lancaster: PA</p>
<p><strong>Enam, N.</strong> (2012, June). The Use of Gentle Yoga as a Therapeutic Modality in a Traumatic Brain Injury Population. Presented at the Brain Injury Association of Pennsylvania Annual Conference, Lancaster: PA</p>
<p><strong>Enam, N.</strong> &amp; Turner, D. (2009, June). Nintendo Wii as a Modality in Traumatic Brain Injury Population. Presented at the Brain Injury Association of Pennsylvania Annual Conference, Lancaster: PA</p>
<h4>
Poster:</h4>
<p>Thomas, A., Seo, Bo, <strong>Enam, N.</strong>, &amp; Corcoran, S. (2019, May). <em><u>The effect of a series of mindfulness workshops on perceived level of stress and quality of life in first year college students. </u></em>&nbsp;Poster Presentation at University of the Sciences Occupational therapy Capstone Presentation session, Philadelphia, PA</p>
<p>Recigno, T., <strong>Enam, N.</strong>, &amp; Parker-Kent, J. A. (2019, April). <em><u>Educating Occupational Therapy Students on Complementary and Integrative Health Approaches.</u></em> Poster Presentation at American Occupational Therapy Association, New Orleans, LA</p>
<p><strong>Enam, N.</strong>, Summer, D., &amp; Kellar, B. (2018, October). <em><u>Novel Learning Strategies to Increase Student Engagement in Interprofessional Education. </u></em>Poster presentation at Pennsylvania Occupational Therapy Association, Pittsburg, PA</p>
<p><strong>Enam, N.</strong>, Summer, D., &amp; Kellar, B. (2018, October). <em><u>Novel Learning Strategies to Increase Student Engagement in Interprofessional Education. </u></em>Poster presentation at the Pennsylvania Society of Physician Assistants, Mount Pocono, PA</p>
<p><strong>Enam, N.</strong>, Summer, D., &amp; Kellar, B. (2018, October). <em><u>Novel Learning Strategies to Increase Student Engagement in Interprofessional Education. </u></em>Poster presentation at Pennsylvania Physical Therapy Association, King of Prussia, PA</p>
<p>Richard, K. <strong>Enam, N.</strong> &amp; Kellar, B (2018, April). <em><u>Impacting Perceptions and Attitudes of Mental Health among Health Sciences College Students. </u></em>&nbsp;Poster presentation at University of the Sciences Research day, Philadelphia, PA</p>

<ul>
<li>
Interventions related to acquired brain injury and older adult population</li>
<li>
Health and Wellness</li>
<li>
Integrative Medicine</li>
<li>
Interprofessional education</li>
<li>
Sleep</li>
</ul>