Matthew D. Nelson, PhD
Associate Professor of Biology, John J. Meehan, M.D., Pathways to Medical Professions Director and Health Professions Advising Committee Co-Director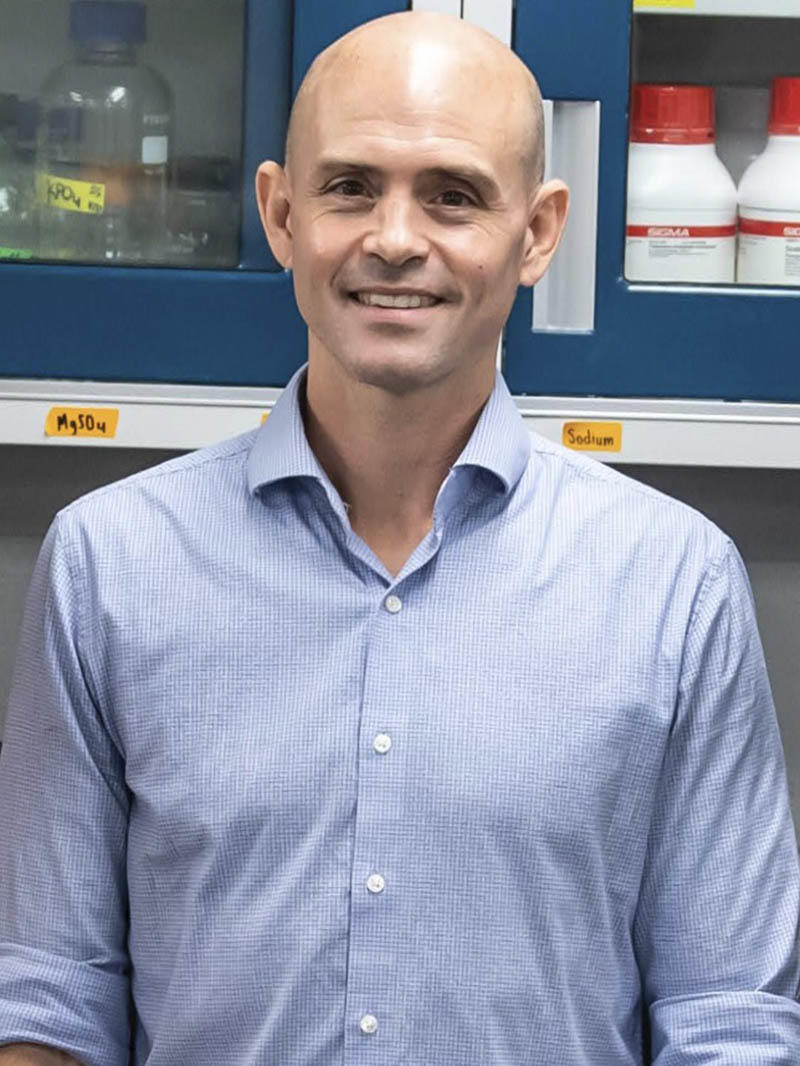 Office
222 Science Center
Phone
610-660-1827
The Nelson lab is looking for students who are excited about studying the genetics and neurobiology of sleep. Students are encouraged to directly contact Dr. Nelson for more information.
B.S. Mathematics, Pennsylvania State University (2000)
M.S. Biology, Villanova University (2005)
Ph.D. Biology, New York University (2010)

Postdoctoral Fellow (2011-2014), Lab of Dr. David M. Raizen, Department of Neurology, University of Pennsylvania Perelman School of Medicine, Philadelphia PA

Emily Le, McCarthy T, Curtin C, Honer M, Fingerut J, and Nelson MD. The neuropeptide receptor npr-38 regulates avoidance and recovery sleep in Caenorhabditis elegans. Current Biology. Will be published online on July 7th.
Honer M and Nelson MD. The genetics of sleep in Caenorhabditis elegans. Genetics of Sleep and Sleep Disorders, edited by Springer Nature. In Press.
Carman, L., Schuck RJ, Li Edwin, and Nelson MD. An AMPK biosensor for Caenorhabditis elegans. MicroPubl Biol. 2022. 10.17912/micropub.biology.000596.
Shea, A., Nelson, M.D., D'Angelo, L., Mikalonis, G., and Forster, B. M. Development of a classroom size nephron model and urinalysis experiment. Advances in Biology Laboratory Education. 2022. Volume 42. doi.org/10.37590/able.v42.art38
Honer M, Buscemi K, Barrett N, Riazati N, Orlando G, Nelson MD. Orcokinin neuropeptides regulate sleep in Caenorhabditis elegans. J Neurogenet. 2020 Oct 12;:1-13.10.1080/01677063.2020.1830084.

Special Issue: Nature's Gift to Neuroscience: A Tribute to Sydney Brenner and John Sulston

Sparacio A., Snetselaar K., Hall D., Nelson MD and Raizen D. Teething During Sleep: Ultrastructural Changes of Pharyngeal Muscle and Cuticular Grinder During the Molt in Caenorhabditis elegans. 2020. PLoS One. May 20;15(5):e0233059. doi: 10.1371/journal.pone.0233059.
Van der Auwera P., Frooninckx L., Buscemi K., Vance RT., Nelson MD, Watteyne J., Mirabeau O., De Haes W., Fancsalszky L., Raizen DM., Schoofs L. and Beets I. Antagonistic RPamide neuropeptides act through GnRH-like receptors to control sleep-wake states in C. elegans. 2020. Scientific Reports. Jun 18;10(1):9929. doi: 10.1038/s41598-020-66536-2
Cianciulli A, Yoslov L, Buscemi K, Sullivan N, Vance R, Janton M, Buerkert T, Szurgot M, Li E and Nelson MD. Interneurons regulate locomotion quiescence via cyclic adenosine monophosphate signaling during stress-induced sleep in Caenorhabditis elegans. Genetics. Early online July 10, 2019; doi: 10.1534/genetics.119.302293
Etzel S, Lindner R, Nelson MD and Winkler A. Structure-guided design and functional characterization of an artificial red light-regulated guanylate/adenylate cyclase for optogenetic applications. J Biol Chem. 2018. Jun 8;293(23):9078-9089. doi:10.1074/jbc.RA118.003069
Fingerut J, Cautela J, Patrick H, Brown A, Nelson MD, and McRobert S. The use of 3D printing to facilitate Drosophila behavior research. Drosophila information service 2017. 100:201-204.
Iannacone M, Beets I, Nelson MD, Schoofs L and Raizen D. The G-protein coupled receptor DMSR-1 transduces quiescence effects of FLP-13 RFamide neuropeptides during stress-induced sleep in Caenorahbditis elegans. eLife. 2017. Jan 17;6. pii: e19837. doi: 10.7554/eLife.19837.
Nelson MD, Tom Janssen, York N, Lee KH, Schoofs L and Raizen DM. FRPR-4 is a G-protein coupled neuropeptide receptor that regulates behavioral quiescence and posture in Caenorhabditis elegans. PLoS One. 2015. Nov 16;10(11):e0142938. doi: 10.1371/journal.pone.0142938. eCollection 2015.
Trojanowski T, Nelson MD, Flavell S, Fang-Yen C and Raizen DM. Distinct mechanisms underlie quiescence during two types of Caenorhabditis elegans sleep. 2015. Journal of Neuroscience. Oct 28;35(43):14571-84. doi: 10.1523/JNEUROSCI.1369-15.2015.
Lenz O, Xiong J, Nelson MD, Raizen DM and Williams JA. FMRFamide signaling promotes stress-induced sleep in Drosophila. Brain, Behavior and Immunity. 2015. Jul;47:141-8. doi: 10.1016/j.bbi.2014.12.028.
Nelson MD, Lee KH, Churgin MA, Hill A, Van Buskirk C, Fang-Yen C and Raizen D. FMRFamide-like FLP-13 neuropeptides promote quiescence following heat stress in Caenorhabditis elegans. Current Biology. 2014 Oct 20;24(20):2406-10. doi: 10.1016/j.cub.2014.08.037
Ryu M-H., Kang I-H., Nelson M.D., Jensen T., Silyberg-Liberies J., Raizen D.M, and Gomelsky M. 2014. Homodimeric bacteriophytochrome engineering: a near-infrared light activated adenylyl cyclase. PNAS. Jul 15;111(28):10167-72. doi: 10.1073/pnas.1324301111.
Nelson M.D., Trojanowski D.F, Smith C., George-Raizen J, Chiu Cheui JJ, Fang-Yen C and Raizen D.M. 2013. The Neuropeptide NLP-22 regulates a sleep-like state in Caenorhabditis elegans. Nature Communications Dec 4;4:2846. doi: 10.1038/ncomms3846.
Nelson M.D. and Raizen D.M. 2013. A sleep state during C. elegans development. Current Opinion in Neurobiology 23(5), 824-830. doi:10.1016/j.conb.2013.02.015.
Nelson M.D., Zhou E., Kiontke K., Fradin H., Maldanado G. Martin D., Shah K, and Fitch D.H.A. 2011. A bow-tie genetic architecture for morphogenesis suggested by a genome-wide RNAi screen in C. elegans. PLoS Genetics 7(3): e1002010. doi:10.1371/journal.pgen.1002010.
Nelson, M.D., and Fitch, D.H. 2011. Overlap extension PCR: an efficient method for transgene construction. Methods in Molecular Biology: Evolutionary Genetics 772, 459-470.
Kennedy C., Nelson M.D. and Bamezai A. 2011. A detergent-free method of lipid raft isolation. Cell Communication and Signaling Dec 8;9(1):31. doi:10.1186/1478-811X-9-31.
George S.*, Nelson M.D.*, and Bamezai A. 2006. A novel approach to examining compositional heterogeneity of detergent resistant lipid rafts. Immunology and Cell Biology 84:192-202. doi:10.1111/j.1440-1711.2006.01421.x. *Co-first authors.

Note: Underlined author is an SJU student

Every animal on earth sleeps or displays quiescent behaviors that resemble sleep. Humans spend greater than a third of their lives asleep but, amazingly, fundamental questions about sleep remain unanswered including: What is its function? And; How is it regulated at a molecular and genetic level? In fact, sleep remains one of nature's greatest biological mysteries.

Simple animals such as fruit flies and nematodes have become key tools in the sleep biology field. These animals are called "model organisms" because many of the same genes and molecules that drive their biology also controls ours. The nematode Caenorhabditis elegans is a microscopic, free-living worm that has been widely used in the lab as a model for understanding development and behavior. C.elegans displays sleep behaviors at regularly timed intervals during larval development and in response to stressful environmental stimuli. But, why study sleep in a microscopic worm? First, C.elegans is a powerful genetic system that we can manipulate with ease. They are transparent and grow from an embryo to an adult in 4 days, thus allowing for fast genetic alteration and experimentation. Because of their simplicity, we know the location of every one of their cells and the connection of every neuron in its simple nervous system (Only 302 neurons!). My lab takes advantage of this amazing animal in hopes to further our understanding of sleep. Specifically, my research focuses on the following: 1) Identification of sleep regulating neurons and how they communicate as neural circuits to control sleep behavior and; 2) Characterize the mechanisms of how signaling molecules called neuropeptides regulate sleep. We use a combination of techniques common in the following disciplines: genetics, molecular biology, neurobiology and behavior.